Sweet2Cook may earn a small commission via affiliate links in this post.
This Easy Chicken Quesadilla Recipe is a quick and delicious favorite in our house! The best part about making quesadillas is that as long as you have tortillas, cheese, and chicken, you can make these with whatever else you happen to have on hand. Here is one of our favorite ways to make Quesadillas!
Prep Time: 10 minutes
Cook Time: 5 minutes per quesadilla
Servings: 10 quesadillas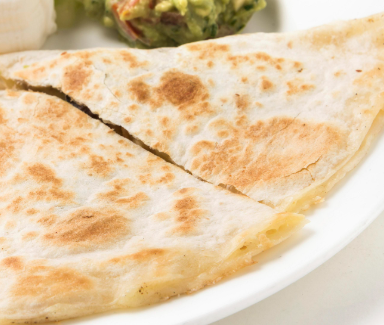 Easy Chicken Quesadilla Ingredients:
1 package Tortillas of your choice (we prefer medium-sized flour tortillas)
2 packages shredded cheese of your choice (Mexican-blend, and/or Monterey Jack are our favorites!)
Approximately 4-5 cups of shredded or sliced chicken (Easy Crockpot Shredded Chicken works amazing for this, and even leftover from the night before!) – or a whole rotisserie chicken from your local store, sliced into small pieces
1 jar of your favorite Salsa
Approximately 1/2 stick of salted butter
Salt
Pepper
Cilantro or Thyme (your preference)
1 package of Sour cream (optional for topping)
1 package of Guacamole (optional for topping)
Easy Chicken Quesadilla Recipe Directions:
Melt a small pat of butter in the pan on medium heat until it coats the bottom lightly
Place tortilla in the pan
Add chicken, salsa, and cheese to approximately half of the tortilla
Add a small amount of salt, pepper, cilantro and/or thyme of your choice
Cook on medium to medium-low heat until golden-brown and cheese is melted; approximately 4-5 minutes (lift up slightly with spatula to check)
Fold the empty side over to make the top, and press to close
Remove from heat
Enjoy!