Sweet2Cook may earn a small commission via affiliate links in this post.
This chocolate mousse recipe is not only rich and chocolatey, but extremely quick and easy! When you serve it to your guests, they will think you've slaved over it for hours in the kitchen. Check out how easy this is! … and one of the most delicious chocolate mousse you'll ever eat!
Prep Time: 20 minutes
Chill Time: 2 hours
Servings: 8 individual servings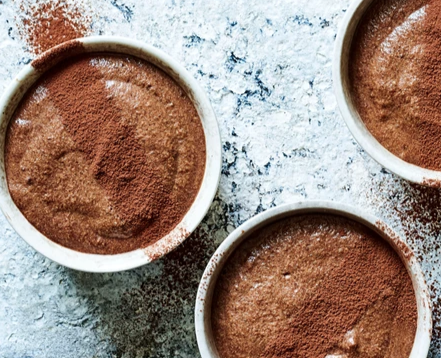 Ultimate Chocolate Mousse Recipe Ingredients:
Ultimate Chocolate Mousse Instructions:
Beat the egg yolks in small bowl with electric mixer on high speed approximately 3 minutes
Gradually beat in sugar until blended
In medium saucepan, heat 1 cup whipping cream on medium-low until heated through
Gradually stir in the egg yolk mixture
Cook over low heat about 5 minutes, stirring constantly until thick, but not boiling
Stir in semi-sweet baking chocolate until melted
Remove from heat
Cover and refrigerate about 2 hours, stirring occasionally, until chilled
In bowl, beat 1-1/2 cups whipping cream until stiff
Fold whipped cream into the chilled chocolate mixture until smooth
Spoon the mixture into serving bowls or glasses
Chill until served. Lightly sprinkle with cocoa powder on top if desired. Enjoy!